West End /  Harbourside  /  Old City /  Broadmead  /  Old Market Quarter /  Stokes Croft /
Bristol city centre shopping
With nearly 500 stores, two separate covered shopping centres, more than 50 cafes and restaurants, and easy access and parking, Bristol's city centre offers the biggest and best choice of shopping in the South West.
You will find Bristol is retail heaven with something for everyone and every taste. Broadmead Quarter is the city centre shopping destination with all the major names you would expect in a city.
The Top Destination Stores include
Harvey Nichols, House of Fraser, Apple, John Anthony, Urban OutFitters, Next, Luke, Guess,Hugo Boss
These are just a few of the hundreds of stores you can find in the city centre. Bristol has almost every major name brand store or a concession in one of the many department stores you could wish for and many new ones to find and fall in love with.
The city centre shopping area is separated into four main areas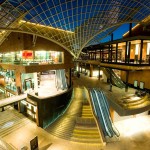 Cabot Circus 
With over 120 shops including 15 major flagship stores and signature stores Harvey Nichols and House of Fraser. Cabot Circus is a must visit for retail therapy. Cabot is also filed with many leading restaurants and cafes to recharge the batteries before you move on to the rest of the shops. For an evenings entertainment you can visit the cities best mainstream cinema Showcase cinema du lux this is no ordinary cinematic experience with luxury seats and a directors lounge for the real film lovers  for details visit  www.cabotcircus.com.
Quakers Friars
For real connoisseurs of luxury Quakers Friars will be one of your new homes while in town. Located in a one of the cities old squares hidden behind the walls of Cabot Circus next to Castle Park this Square offers everything from spa's, hairsalon, The Apple Store, John Anthony, Cafes and Restaurants, and for pure indulgence you have Harvey Nichols where you can shop or relax in the Champagne Bar while looking down one the streets below is luxurious abandon.  For details visit  www.cabotcircus.com.
Broadmead
We all have days when we need the high street essentials and Broadmead has it all from Tesco express to Top Shop and everything in between.  Broadmead is also the location of one of the largest Primarks in the UK. For details of all 300 stores check out www.bristolbroadmead.co.uk/
 The Galleries Bristol
Located within the heart of Bristol's vibrant city centre shopping district, The Galleries has been welcoming customers for 20 years.
Today, it is the essential destination for your favourite stores and everyday shopping needs, with a wide selection of retailers from unique independents to large national brands.
For details check http://www.galleriesbristol.co.uk
Car Parking
The best central location car parks and best value for money are the Galleries Car Park and Cabot Circus Car Park.