West End /  Harbourside  /  Old City /  Broadmead  /  Old Market Quarter /  Stokes Croft /
The Harbourside takes you through the wonders of Victorian design to that of the modern day with the new and the old all within easy distance of each other.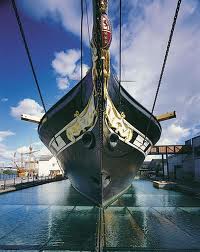 Brunel's ss Great Britain
Step back in time when you board Brunel's ss Great Britain. Discover the true stories behind the ship that changed the world.
Experience the sights, sounds and smells of life on board for Victorian passengers and crew. Descend under water below the glass 'sea' to touch the world's first great ocean liner.
For all the latest visit their website www.ssgreatbritain.org
You can also find this attraction on the following
Other attractions within the Harbourside :-

View Art Gallery
159-161 Hotwell Road,Bristol BS8 4RY
View is one of the largest independent gallery spaces in the South West, bringing a fresh and vibrant feel to showing contemporary art
The Bristol Gallery 
Harbourside Bristol BS1 5TY
The Bristol Gallery hosts exhibitions from major local and international artists.
Bristol Aquarium
The spectacular Bristol Aquarium in Bristol's historic Harbourside area takes you and your family and friends on a spectacular undersea safari.
At-Bristol
At-Bristol is a state-of-the-art, interactive science centre, offering an amazing world of hands-on discovery for you, your friends and your family.
At-Bristol involves people of all ages in an incredible journey through the workings of the world around us. Plus there is always something new to discover with At-Bristol's programme of special exhibitions, from animation to flight and illusions to water!
For more information relating to whats on in the Harbourside Quarter check out the main tourism website
http://visitbristol.co.uk