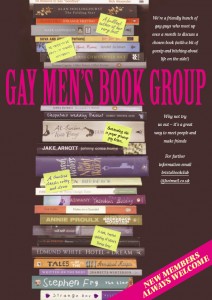 About us | gaymensbookclubbristol
The group started off about eleven years ago and has members from a mixture of ages and backgrounds.  The turnout varies between six and fourteen people, though we have about forty people on the list of members. The books we read vary from light to heavy, usually written either by or about gay men. Anyone is free to choose a book but they dont necessarily have to introduce it themselves. Discussions are quite lively: we have one member (me) who loves virtually every book fairly uncritically and one who virtually savages every book (but he is quite gentle really!).
We meet monthly, usually Tuesday, Wednesday or Thursday, at 7.30 for 8 in a members flat in the centre of Bristol and chat over a glass of wine, beer or cup of coffee.
Some people turn up to every meeting; others choose which meetings to attend according to whichever book is being discussed at any given time. Either is fine
People have commented:  lovely home and an attentive host
Friendly safe space
I had a lovely time, thank you
a great list of books
much nicer atmosphere than any bar and no distractions from it being a book club rather than any other type of social gathering
From someone who moved away: Ive enjoyed (some of!) the books weve read and the insights offered (into the book group members themselves as much as the books).
Enjoyed last night, good venue, views and lovely to see the wine flowing.