Welcome to Black History Month Festival HUB for the West of England. Black History Month  commemorates and celebrates the culture and heritage of African & Caribbean communities as part of a national festival.  Below you will see the events happening in the region . This HUB also links you to the National programme of events.
To check out what is happening and follow Black History Month check the links to the main website  and social media below
---
Africa Writes 2017 Pop-Up: Bristol
Date: Friday 6th – Saturday 7th October 2017
Venues: The Cube Cinema, Dove St S, Avon, Bristol BS2 8JD
Hamilton House, 80 Stokes Croft, BS1 3QY Bristol, United Kingdom
About the event
The Royal African Society's annual literature festival comes to Bristol!
Africa Writes Pop-Up: Bristol presents exciting series of events celebrating contemporary African literature and thought.
With book launches, film screenings, discussions, family activities, workshops, and a poetry night, the festival brings you a vibrant programme showcasing the best new writing from the continent.
Africa-Writes-2017-Pop-Up_Bristol_Programme_6-7-Oct_25.09.2017
---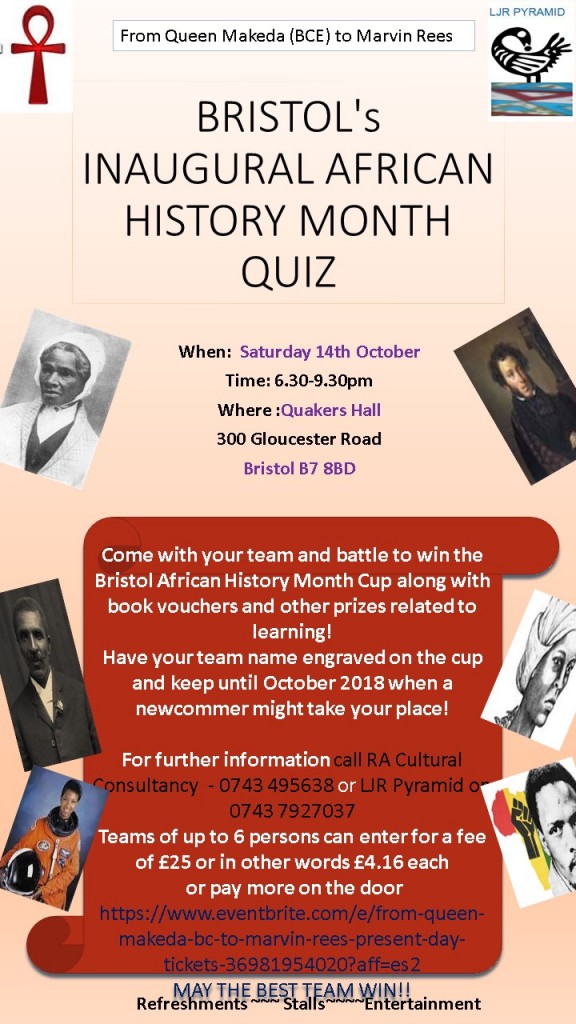 ---
The Link 2017
Date and Time: Wed, October 18, 2017 5:30 PM – 8:30 PM BST
Venue:
Bristol Business School (X Block Frenchay Campus)
University of the West of England (UWE Bristol)
Coldharbour Lane
Stoke Gifford
BS16 1QY
About the Event
UWE Race Equality is coordinating the 2nd Annual BME Professional Networking Event which takes place 18th October 2017. This year's event is open to all Faculties so please encourage your Home – BME students to sign up here for afternoon workshops and here for the evening networking.
Please also encourage your external BME professional contacts to register here.  It's really important that as many Industries and fields are represented on the night so please reach out to the individuals you think would inspire and champion our students as well as posting the registration link on your social media sites.
---
#ThereIsBlackInTheUnionJack
Date: 20 Oct 2017
Time: 19:30-21:30
Venue: Watershed Bristol
About the Event
For #ThisIsBlackInTheUnionJack we focus on the people within the Bristol BME community and use their voices and experiences to create a documentary that explores what it means to be black and British in the present moment. Recent local and national events have thrust into the spotlight the complicated nature of race and racism, nation, citizenship, inequality, and belonging in the UK and at the center of many of these debates are the BME communities. From the election of BME mayors in London and Bristol to the rise of the Black Lives Matter Movement to the Brexit vote, the UK is at a crossroads in identifying as a nation what British heritage means and who fits into that imagination.
#ThereIsBlackInTheUnionJack
Documentary Launch and Debate, 20th October  2017, 19:30pm – 21:30pm, Watershed Bristol
A film and history project by BSWN – looks at the relationships between heritage, race,identity and belonging for the Black and Ethnic Minority (BME) community in Bristol. It focuses on how BME individuals and communities in Bristol express their racial identity/heritage in post-Brexit England when vitriol racial and nationalistic rhetoric is being used to question the place and heritage of people of colour place within the UK.
Following the film, Asher Craig (Bristol City Council), writer, broadcaster and barrister Afua Hirsch, researcher Maya Goodfellow, Omar Khan (director of the Runneymede Trust) and writer and broadcaster David Olusoga will explore issues of identity, inclusion and belonging in future
---
Race, Gender and the Future of Cities
Date: Friday 20th October 2017, 12.40 – 14.00pm
Venue: Watershed, 1 Canon's Road Bristol, England, BS1 5TX
About the event
Historically and currently  from the civil rights movement in the US to the contemporary global movements around Black Lives Matter women of colour have often been at the forefront of campaigns to create more humane and integrated policies and places. The #ThereISBlackInTheUnionJack project (launched on 19th April 2017 and funded by Heritage Lottery Fund) looks at race in Bristol through the generations, including women of colour. What can this and historic and global movements for change teach us about the future of cities? Speakers include: Dr. Madhu Krishnan, Dr.Sumita Mukherjee, Aisha Rana-Deshmukh, and Nicole Truesdell. For more information and to book tickets, please see here.
---
#ThereISBlackInTheUnionJack Community Documentary Launch and discussion
Date: Saturday 21st October 2017, 18:00pm – 20:00pm
Venue: Docklands, St Paul's Settlement, 74-80 City Road, Bristol, England, BS2 8UH
About the Event 
What does it mean to be Black and British in modern Britain? First, we will show the documentary produced by Black South West Network in partnership with 8th Sense Media on our Heritage Lottery Funded project #ThereISBlackInTheUnionJack that is focused on the relationships between heritage of race, identity, and belonging for the Black and Ethnic Minority (BME) community in Bristol. Then we will engage the BME community on their views of the documentary and where Bristol as a city is headed in terms of racial politics, heritage, and belonging. Speakers include: Dr. Edson Burton, Sado Jirde, Kunle Olulode, Delano Gourmet  Moore, Michael Jenkins, Desmond Brown, and Councillor Estella Tincknell. For more information and to book tickets, please see our Eventbrite page here.
---
 
Bristol Somali Festival Family Day
Date: Saturday 28th October 2017, 11.00am – 15.00pm
Venue: M Shed, Wapping Road Bristol, England, BS1 4RH
About the event
The second day of the festival will take place on Saturday the 28th October in the form of a large family day, an opportunity for families with young children to participate and enjoy being surrounded by Somali culture. There will be several attractions organised, including a fabric and craft store, craft tables, Somali kitchen for an experiences of blending spices, and an exhibition of Somali cultural artefacts. This event is free and requires no booking in advance.
---
Bristol Ferry Boats- Black History Month Events
Bristol Ferry Boats are really excited to announce that this October we are joining the global celebration of Black History Month.
This is the first year for Bristol Ferry Boats and we are diving in head first!
They  have a programme of talks, provocations, and performances every Wednesday in October!
They are very keen to support community groups in being part of this celebration. If you are a member, work with, or support a group that might be interested in attending any of their BHM events please do get in touch – they would love to offer discounts to groups and free tickets for certain community groups.
Below is their programme for October.
Wednesday 11th October – Rum, Bananas, and Cocoa
A harbour history tour like never before.
Dr. Edson Burton and guests guide us on a living story of trade and migration. Peppered with music, song and story, we unveil the human cost to Bristol's harbour history. An evening of performance and history.
Wednesday 18th October – Head Wraps, Hair Styles and Humans.
We take a frank look at the history of the head wrap, and talk about image, beauty and identity for all women, but especially women of colour. Featuring 2 of Bristol's brightest and boldest women of colour Mena Fombo & Eva Lazarus.
Wednesday 25th October – Abolition Afloat.
Welcoming educators, families, and those thinking about how we pass on history to the next generation. Join our taster session of our newly created schools trip.
We would love you to join us for this exciting journey.
If you would like to book tickets or have any questions – perhaps you would like to bring a community group (remember, we can offer discounts for group bookings and free tickets for certain community groups and members) feel free to get in touch or check out our website for more details.
We would love you to share these events on to your networks, and we hope to see you on the boats for new conversations and bold ideas.
www.bristolferry.com
outreach@bristolferry.com
Twitter: @BristolFerry
Facebook: @bristol.ferry
---
Events Celebrating Black History Month at various locations in Bristol
The following events with or including a Black History (African and African diaspora) focus being held in Bristol late 2017 into 2018 could be of interest to you:
---
•         Fri 27th October 2017, 11.00am – 15.00pm at Bristol Museum & Art Gallery (drop-in, free)
Kwanzaa family day run by Liz Small for visitors to learn about Kwanzaa and celebrate African heritage & values
---
•         Fri 27th October 2017, 18.00pm – 20.45pm at M Shed (Book, free)
Launch of Bristol Somali Festival
---
•         Sat 28th October 2017, 11.00am – 15:00pm at M Shed (drop-in, free)
Somali family day to learn and celebrate Somali history and culture
---
•         Sat 11th November 2017, 10.00am – 16.30pm (Free, drop-in)
Celebration of Migration – stalls, performances, conversations
---
•         Wed 15th November 2017, 18.30pm – 20.30pm (book)
'The truth about migration' panel discussion chaired by Rob Mitchell
---
•         Thursday 11th January 2018 (book, free but donations to the Friends of the Museum welcome)
Empire and memory Speaker: David Olusoga (Writer/broadcaster)
---
•         The' Empire through the Lens' exhibition featuring images from the former British Empire and Commonwealth exhibition will also be on display from 30 sept at Bristol Museum & art Gallery.
And of course, as mentioned before there may also be a Black History tour in St Paul's created by our student placement, Tanja Bah.
---
2nd – 29th October  The Fight For Rights Exhibition
Central Reference Library, College Green, Bristol BS1 5TL
Library opening times.
The local journey; from anti slavery to civil rights and equality is featuring here in seldom seen material from Bristol Central Library's world class historic collection.
Free
_______________________________________________________________________________________________
7th October St Paul's Youth Workshop
Malcolm X Centre, 141 City Rd, Bristol BS2 8YH
Time TBC
History based sessions for young people aged 11-16 with the aim of challenging misconceptions around ideas of race and migration. Workshop led by Nayah Yetunde and Hannah John.
Free. To find out more and book, please email: hannah81@live.co.uk
---
8th October  Barton Hill Cotton Workers
Valentine Bridge, Bristol BS1 6DX
14:00pm – 17:00pm
This walk is about the struggles of Bristol's men and women workers in the late 19th and early 20th centuries. It starts on Valentine Bridge (behind Temple Meads Railway Station) with an introductory talk, crosses over to Avon Street, continues through the old industrial working class areas of St Philip's and Barton Hill via the Great Western Cotton Factory, and ends at the Old Council House in Corn Street. Find out more about Bristol Radical History Group by clicking here..
Free. Just turn up.
---
Date 9th October  Battling for Bristol
The Cube Cinema, Dove St South, Bristol BS2 8JP
20:00pm
An evening of films on Bristol campaigns for social justice.  It will include the risings of 1831, 1980 and 1986, the demands for decent housing and for equality for women workers, as well as film of the bus boycott that ended racial discrimination on Bristol's buses. Sponsored by the Bristol Radical History Group.
£5 / £4 concessions  To find out more and book, please click here.